Mersey Sounds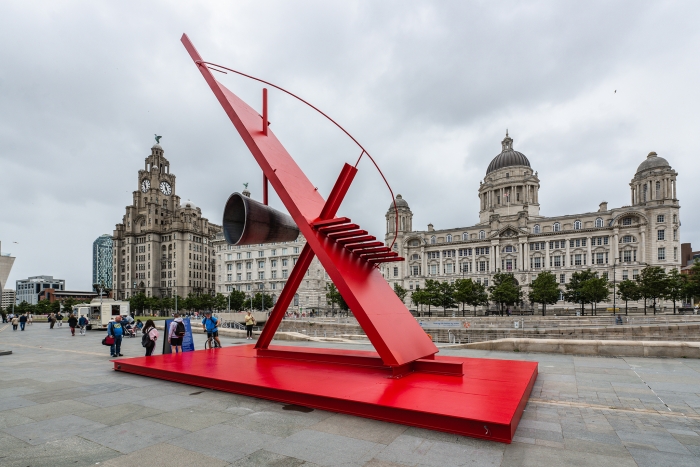 Part of our 'Very Public Art' commission, Mersey Sounds by Writing On The Wall with architects Smith and Young is a 12.5m high sound installation on the Pier Head.
Simple, yet strong, the heart of this structure is a giant handmade copper megaphone built to reflect Liverpool's traditions as a democratic city where our people have a voice and tell their own story.
Mersey Sounds is a recreation of Liverpool's Speaker's Corner, designed by Liverpool Sculptor Arthur Dooley (1929-94), which was situated on the waterfront up until the mid-1990s; a site for speeches, rallies and demonstrations during Liverpool's turbulent industrial and political past. The original design incorporated an upward spiral of steps, tapering inwards with the option of two speaking positions. Mersey Sounds, Painted in powerful red, has a vibrant, striking aspect, including a striking copper megaphone playing a soundscape of voices drawn from Liverpool's diverse communities and celebrated archive material offering people an insight into past lives and present day voices.
Mersey Sounds is a collaboration between Arts Organisation of the Year Writing on the Wall and award-winning Architect, Daniel Smith of Liverpool based Smith Young Architects. The historic connection between the original Speakers Corner and Mersey Sounds is that Daniel smith's father was the steel erector who worked with Sculptor Arthur Dooley when he created the original Speakers Corner dais. The project is also a collaboration with Liverpool's communities as it will feature a changing soundscape of speeches and stories gathered from the diverse groups WoW works with, to recognise the democratic traditions of the original design and encourage engagement from both longstanding and new communities who are reshaping Liverpool, an ever-changing city.
---
Event Date: Sunday 15th August – Monday 6th September 2021
LOCATION: Pier Head, Liverpool
---