Lucy McKenzie – Tate Liverpool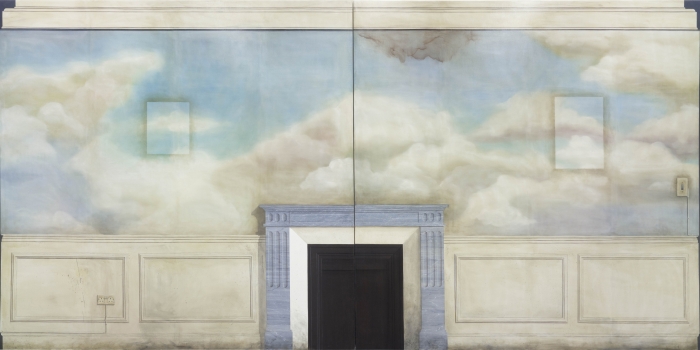 Join Tate Liverpool for the first UK retrospective of Glasgow-born, Brussels-based artist Lucy McKenzie (b. 1977). The exhibition brings together over 80 works dating from 1997 to the present. Visitors can enjoy large-scale architectural paintings, illusionistic trompe l'oeil works, as well as fashion and design.
The exhibition highlights themes that have interested the artist throughout her career such as the iconography of international sport, the representation of women, gender politics, music subcultures and post-war muralism.
A skilful painter, McKenzie is known for her use of the trompe l'oeil technique; paintings that are so convincingly real they literally "deceive the eye". Take a closer look at Quodlibet XIII (Janette Murray) 2010 and you'll discover the pin board, with attached map, knitting pattern, and wool is in fact, a painting.
McKenzie collaborates with other creatives regularly. Through her collaborations, she challenges the notion of authorship by pointing to the strength of collective actions. McKenzie founded Atelier E.B. with Scottish designer Beca Lipscombe which has operated as a fashion label since 2011. Street Vitrine III Constellation 2020 produced by Atelier E.B. highlights the artistic skill involved in window dressing. This is further investigated in works like Rebecca 2019 which questions some people's perception of 'window dressing' as a talent that requires little skill.
---
Event Date: Wednesday 20th October – Sunday 27th March 2022
Please note:
This event has been submitted by the event organiser and is not endorsed by Culture Liverpool or Liverpool City Council. If you have any questions, please direct them to the event organiser.
---