Liverpool St Patrick's Day Parade 2018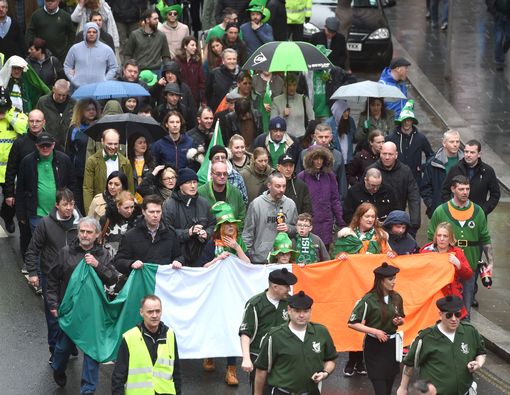 Saturday 17 March 2018. The Liverpool St Patrick's Day Parade will be assembling from 1pm at Great Orford Street, the Old Irish Centre, on Mount Pleasant Liverpool City Centre L3 5RG. The parade will move off from the assembly point at 2 pm and will finish at Derby Square in the Liverpool City Centre for around 3pm.
We now have 7 bands confirmed:
Cloughaneely Band
Liverpool Irish Flute Band
Manchester Community Pipe Band
City of Liverpool Pipe Band
Warrington Pipe Band
Liverpool Katumba Drummers
Cambria Drum Band
After the parade, there will be one coach waiting at Derby Square (parade end point) of which has 40 seats available for those who are wanting to come to the Liverpool Irish Centre afterwards. Coach is FREE of charge!
---
Event Date: Saturday 17th March – Saturday 17th March 2018
Please note:
This event has been submitted by the event organiser and is not endorsed by Culture Liverpool or Liverpool City Council. If you have any questions, please direct them to the event organiser.
---