Iconic Site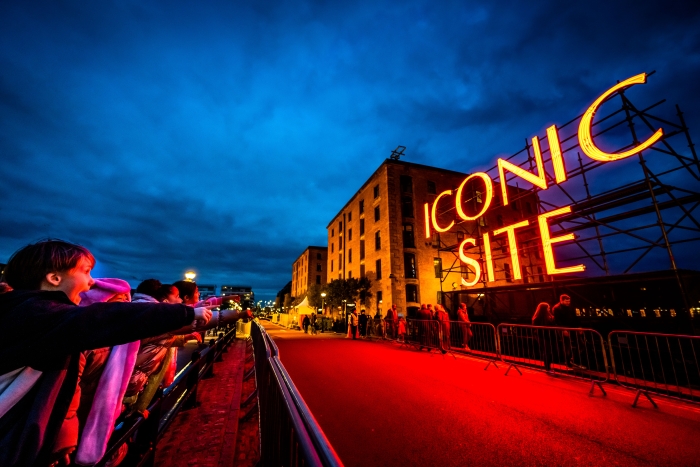 Iconic Site was created as a response to the situation of many cities where waves of new development change the face of our urban environment, often replacing the character of a place with buzz words and catchy sentences.
In 2004, Liverpool's historic Victorian docks were given World Heritage status to recognize the beauty of the architecture of its waterfront and the significance Liverpool had as a major trading power during the British empire. That status and recognition was lost recently when Unesco rescinded the World Heritage status citing that new developments had transformed the original characteristics of the area.
Iconic Site is an invitation to consider what gives a place its character and unique cultural quality and the fine balance between past and present.
Iconic Site has been reimagined for past showings in various cities including Manchester and Margate to coincide with the opening of Turner Contemporary, and Toronto, Canada.
About the Artist of Iconic Site
Sans façon is the collaborative practice of artist duo Charles Blanc and Tristan Surtees.
---
Accessible Information about Iconic Site
Description of Iconic Site installation for visually impaired visitors
On the bridge nestled between two historical dockside warehouses a large sign with the words Iconic Site, illuminated with red neon, overlooks the historic Royal Albert Dock. Standing approximately 7 metres tall and 10 metres wide, the large scale of the artwork is intended to befit the dramatic context of the Liverpool docks.
The style and scale of neon are familiar to the way major venues display their names, commonly found on rooftops as permanent signage that is visible from a great distance. The word iconic is centred over the top of the word site and each letter is open-faced with an aluminium casing to enhance the glow of the neon. Up close you can hear the buzz of the neon which is reminiscent of movie signs, American drive-throughs, and concert halls of old.
---
Event Date: Friday 22nd October – Sunday 7th November 2021
LOCATION: Royal Albert Dock, Salthouse Quay, Liverpool, L3 4AA
---