FREE Online Art Classes for Community Groups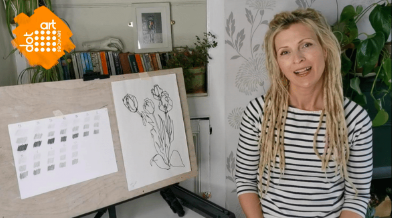 What's On Offer?
Thanks to funding from Liverpool City Council, dot-art can offer community settings that work with people who are either CEV (clinically extremely vulnerable) or transitioning out of shielding (e.g. due to physical health, mental health, anxiety, loneliness, debt advice, bereavement etc) FREE access to art classes.
There is a choice of two different courses for adults and one for young people and families. Each option includes a 2 hour, in-person introductory session with the artist tutor, a materials pack for 10 participants and unlimited access to the online course videos and worksheets. All courses are suitable for beginners.
For Adults Settings:
EITHER
Get to grips with a variety of drawing techniques with professional artist Sarah Jane Rich-ards. This four-part drawing course is designed for beginners and those looking for inspiration in their drawing practice. Over the course, you will learn and develop observational and expressive drawing techniques to create your own unique drawing style.
• Sessions – 4
• Tutor – Sarah-Jane Richards
• Materials provided – 10 x A3 sketch pad /10 x pack of 6 drawing pencils / 10 x eras-er / 1 x sharpener / 1 x pack of charcoal
OR
Through this course, you will learn how to measure and draw using the fundamental 'thumb-and-pencil' method. Mastering this method will allow you to draw accurately and achieve correct proportions. Once you've learnt the foundations of drawing, you will gain enormous freedom as an artist.
• Sessions – 2
• Tutor – Roy Munday
• Materials provided: – 10 x A3 sketch pad /10 x pack of 6 drawing pencils / 10 x eraser / 1 x sharpener / 1 x pack of charcoal
For Youth / Family Settings (children under 7 will need adult supervision)
Professional sculptor Faith Bebbington will guide you through the process of creating sculptures at home using simple techniques and recycled materials.
Having led workshops in schools for many years Faith has found that using newspaper and sticky tape is an ideal way for children and young people to build successful sculptures quickly. These simple techniques are easy for everyone to try at home. You don't need any special equipment apart from a pair of scissors, an old newspaper and a roll of sticky tape.
• Sessions – 3
• Tutor – Faith Bebbington
• Materials provided – Coloured tape x 12
• To be provided by client – newspaper and scissors
We have a limited number of courses available, so please get in touch ASAP if you'd like to take up the offer. We look forward to hearing from you!
---
Event Date: Tuesday 25th January – Sunday 31st July 2022
Please note:
This event has been submitted by the event organiser and is not endorsed by Culture Liverpool or Liverpool City Council. If you have any questions, please direct them to the event organiser.
---