Frankie Say 1984!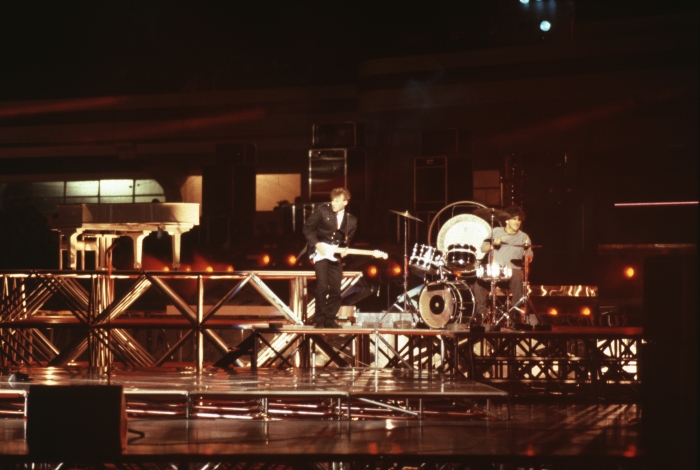 No band has ever dominated a year like Frankie Goes to Hollywood in 1984.   Born out of Liverpool's post-punk scene with a brash, mischievous, 'do what you want' attitude – Frankie were a one-off. With their first three singles all going to No.1 – a feat previously only achieved by fellow Liverpudlians, Gerry and the Pacemakers – they dominated the charts and the airwaves.   They had a sound and image unlike anything else; part punk with rock and dance thrown in for good measure.
Are we living in a world, where sex and horror are the new gods?
The world needed Frankie's innocence and fun.  With a bleak backdrop that included Thatcher, Reagan, Cold War, Trident, the miner's strike, IRA bombs and HIV – Britain, and certainly Liverpool, were not in a good place.  Frankie's success allowed them to play about with political themes in a serious but entertaining way.
Arguably the last great British pop band to get obsessed over?  Maybe.  Will we ever see their like again? Possibly not.
The BME is celebrating Frankie's enormous contribution to British popular music in their home city of Liverpool through a temporary exhibition of some iconic Frankie Goes To Hollywood stage outfits, instruments, memorabilia and a collection of retro "Frankie Say" merch. With focus on their meteoric success in 1984 and the political landscape of that year, the exhibition will launch with a BANG and conclude with Frankie Say 2020 – bringing the story up to date in a sombre but uplifting way, highlighting the strange times we are living through.
The exhibition will be further supported through a season of events celebrating 1984, including film screenings, album playbacks and discussions.
You can help us support and grow the archive and collection of instruments and outfits by agreeing to Gift Aid your event ticket.  We will receive £0.25 for each £1 spent. Remember to complete your Gift Aid declaration and hand it to us on arrival. Thank you for the support.
---
Event Date: Friday 28th May – Sunday 9th January 2022
---