EU Day of Creativity Event With Adam Buick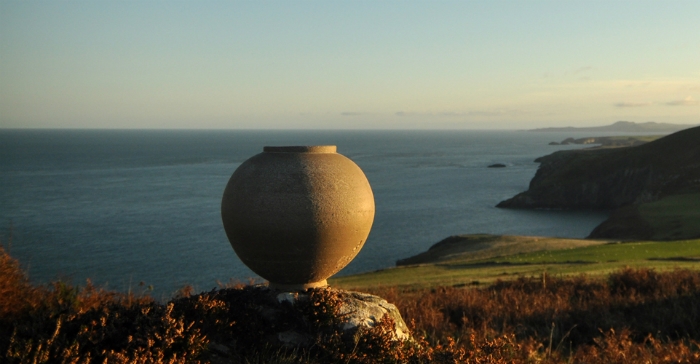 Bluecoat Display Centre (BDC) will deliver a unique free artist event to coincide with the European Day of Artistic Creativity on 21st March, with early career ceramicist Adam Buick linked to our Equinox exhibition curated by one of our supporting gallery staff; Megan Hartley-Roberts.
Adam Buick is a Pembrokeshire based ceramicist and conceptual artist who also works with photography and film. Before his training in ceramics, he studied archaeology and anthropology. His aim is to incorporate elements from the landscape into his works. Adam makes white porcelain Moon Jars, which are an ancient Korean form originally made from plain white porcelain. Adam was so inspired by this pure form that he now uses it as the composition for his work. He incorporates stone and locally dug clay into his work to create a narrative, one that conveys a unique sense of place.
My work uses a single pure jar form as a canvas to map my observations from an ongoing study of my surroundings. Landscapes have inspired artists for generations but for me a landscape has to be felt. With my site-specific work I too am venerating the landscape.
Event Schedule
1.45pm: Arrive for the event at the Bluecoat Performance Space
2pm: Welcome & introductions by Samantha Rhodes, Director Bluecoat Display Centre
2.15 – 3.15pm: Adam will demonstrate various aspects of his throwing and coiling techniques
During Adam's demonstration Megan will encourage a conversation around the act of Adam's making and questions will be invited from the audience.
3.30pm: There will be the opportunity to watch some of the films Adam has made
Adam's film projects include 'Earth to Earth'. In this piece a raw, unfired Jar, made from a blend of local clays was placed at the top of Carn Treliwyd to weather away. There are cycles within nature some quick, others slow and this artwork illustrates one cycle as a metaphor for all. Made from the earth, the wind and rain will return it back to the earth.
4.30pm: Adam will return to the BDC for refreshments and to give the audience the opportunity to see and discuss informally his work in the Equinox exhibition
---
Event Date: Wednesday 21st March – Wednesday 21st March 2018
---