DaDaFest International Festival 2020: Translations
Award-winning, Liverpool based disability and D/deaf arts organisation DaDaFest works all year round with deaf and disabled artists and creates an international festival every two years.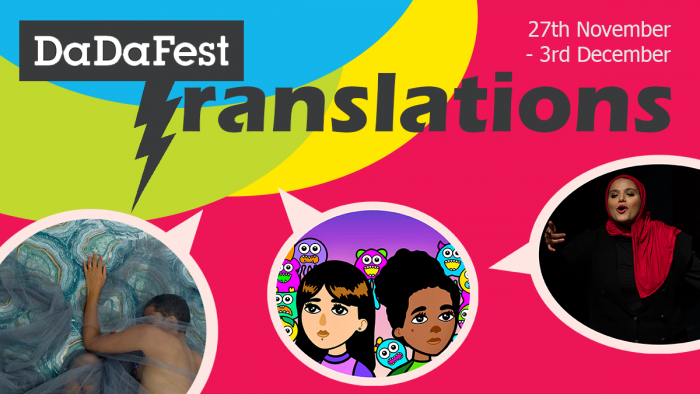 This year it's called Translations, it's all online, and it's all FREE.
The programme is made up of new artworks across a range of artforms, and includes a lot of firsts for DaDaFest: we've commissioned a podcast series, a board game, and even a fitness video (albeit with a disability arts twist).
The theme of 'Translations' is approached in all kinds of ways and opens with a film from internationally renowned artist Alexandrina Hemsley. Amina Atiq explores what it means to be 'Yemeni-Scouse', Hana Madness and Alexis Maxwell's animation reveals UK-Indonesian differences and commonalities… and elsewhere Dominic G will be sharing his manifesto for a fictional nation of weasels!
Other artists featured include Tammy Reynolds who will be examining dwarfism and control of public gaze, Deaf Explorer's cross-artform collective, Ngozi Ugochukwa presenting an exhibition around body scars, and many many more.
The festival will include BSL interpreted, Audio Described, Captioned events, and there will be easy read versions available, all to improve access.
The full DaDaFest International programme will include artist talks,
live Q&As and more.
For exclusive content sign up to DaDaFest's e-newsletter.
---
Event Date: Thursday 26th November – Sunday 13th December 2020
Please note:
This event has been submitted by the event organiser and is not endorsed by Culture Liverpool or Liverpool City Council. If you have any questions, please direct them to the event organiser.
---