Changing Sails by Julia Snowdin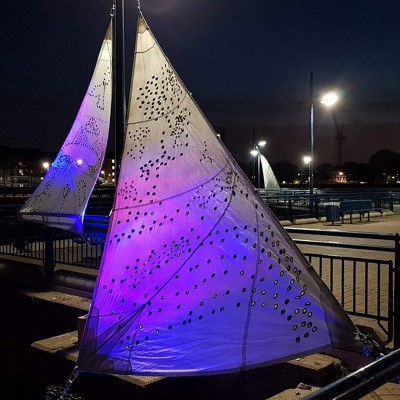 Step inside Changing Sails, an enchanting hexagonal space beneath evocative canvas which is set to unfurl in the Mann Island Liverpool Festival site.
Artist Julia Snowdin's transformative textile installation features a series of decorative ship's sails whose hole-punched eyelet designs of sun, moon and stars will allow patterns of shimmering coloured light to fall around its visitors.
Watch out for our magical mermaid and ludicrous lighthouse keeper, entertaining the little ones with tales of their fantastical voyages.
Nearby, enjoy origami boat-making workshops with artist Julia Snowdin on the Saturday, Sunday and Monday of the May Bank Holiday weekend.
And celebrate the ever-changing nature of Liverpool's historic waterfront at the same time.
Up to 25 young people aged five and over can learn the ancient origami art in each workshop and then take their maritime memento away with them to treasure.
Snowdin creates 'unexpected and unimaginable spaces' for people to come together for a shared experience and leave with a story.
When: Saturday, Sunday and Monday
Where: Mann Island Atrium
Time: 12pm- 6pm
---
Event Date: Saturday 26th May – Monday 28th May 2018
---