Two Cats and a Canary by Katy Anne-Bellis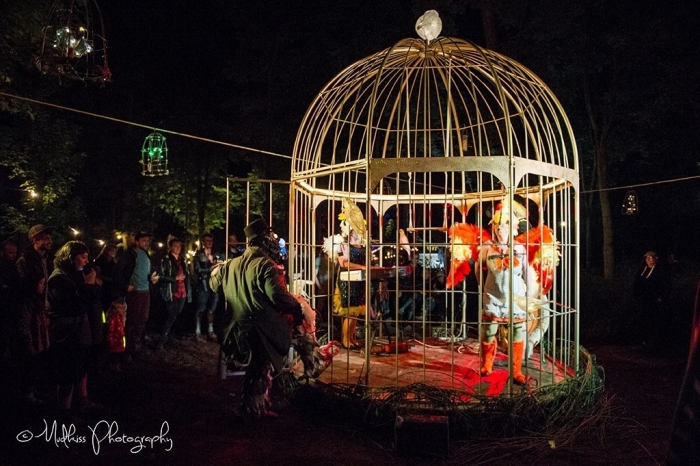 Flock to a giant gilded birdcage filled with a feast of visual and musical treats and enjoy some birdy chaos this May Bank Holiday.
Feisty felines, a fluttering bird, aerial hoop and a spot of tap dancing are the order of the day, with Katy-Anne Bellis and her fellow performers Stephanie Greer and Naomi Giffen promising to entrance and enchant visitors to the Pier Head.
Two cats and a canary are caught in a manic cartoon chase around the confines of the cage as French farce meets Liverpudlian wit in this fantastical flight of fancy.
Hope Street Ltd-trained Bellis is a clown, cabaret artist, songstress and spreader of joy, with a passion for puppetry and a love of creating anarchic performances in unusual spaces.
The birdcage is a collaboration between surreal theatre company Caustic Widows and Barnton Circus.
When: Saturday, Sunday and Monday
Where: Pier Head
Time: Fri 3pm & 6.30pm / Sat & Sun 12pm, 3pm, 6pm & 7.30pm / Mon 10am, 11.30am. 1.30pm & 4pm
All of the entertainment is free across the festival site including the Pier Head stages. There is a charge to enter the Bordeaux Wine Festival, situated on part of the Pier Head.
---
Event Date: Saturday 26th May – Monday 28th May 2018
---