Art From The Ashes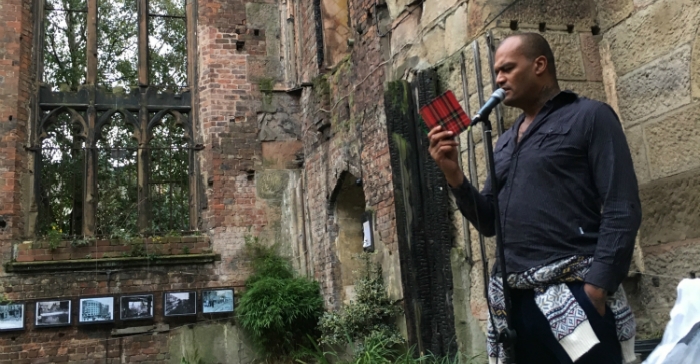 Art and creativity have always been the core ethos of the BOC. When we say on our logo; "keeping it open for everyone", we mean for the whole community to have access to create and enjoy; theatre, film, art, photography, music no matter what their background art status may be.
On 21st March 2018, we offer the opportunity for people to perform and create art themselves and have it exhibited at the Bombed Out Church.
As the last bombed site in Liverpool we feel a duty not just to memorialise the thousands of civilians who lost their lives in Liverpool during WW2, but to reach out across Europe and the world. We are currently creating links with other bombed churches in Europe, especially Germany.
For this year's European Day of Artistic Creativity we will present a multi-media event that includes painting, photography, poetry and performance. These will all be created in and feature aspects of the Bombed out Church.
Each piece of work will recorded by the participant on their own mobile phone and uploaded to our website www.bombedoutchurch.com with the hashtag: #artfromtheashes
Creative days at the Bombed Out Church will take place on:
Thursday 15th March: 12pm – 6pm
Friday 16th March: 12pm – 6pm
Saturday 18th March: 10am – 6pm
Sunday 19th March: 11am – 6pm
Artists and members of the public will be invited to create multi media works of art exploring the theme 'War & Peace In The Post Blitzkrieg Era' .
Acrylic paints and small boards will be freely available and an art teacher will be on hand to offer support and advice. Also available will be a space to perform, film poetry, short dramatic vignettes along with coloured chalks for drawing/writing on the York stone slabs.
We will also offer short tours of the church for anyone who wants to know more about the history of the church and its fire bombing within the context of CreArt.
Culminating on the 21st March, we will present an installation of the collective digitised art works produced by the public between 15-19th March. The exhibition will be projected onto a screen within the the bell tower of the Bombed Out Church all day from 10am until 6pm.
In the early evening of the 21st we will screen the videos made by the public during CreArt Week, followed by a screening of the classic film 'Never on a Sunday', starring the genius and driving force behind the concept of European Capital of Culture, the late, Melina Mercuri.
---
Event Date: Thursday 15th March – Wednesday 21st March 2018
---