And These Birds Can Sing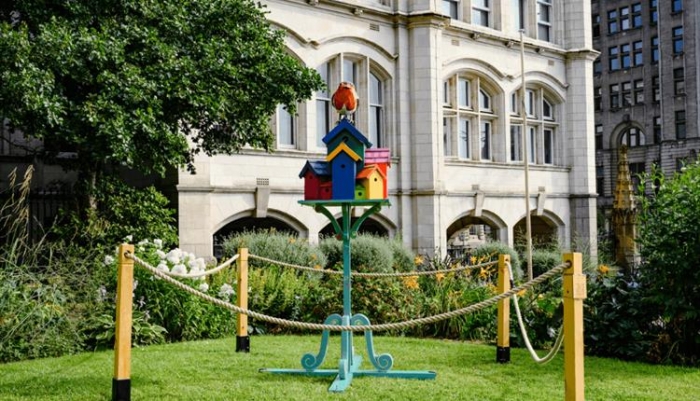 Part of our 'Very Public Art' commission, And These Birds Can Sing by artist Katy Anne Bellis is a magical sound installation of colourful bird boxes situated in the grounds of St. Nicholas's Church.
Created by The Birdcage Stage in collaboration with Hope Street Harmonies and We Want Women, the artwork is a celebration of female/female identifying singers, poets and musicians in Liverpool.
Our Very Public Art commissions are a celebration of outdoor, public art taking place across Liverpool's Quarters comissioned by Culture Liverpool and supported by Arts Council England.
#VeryPublicArtwork #BirdCageStageC.I.C #WeWantWomen #HopeStreetHarmonies #HolisticHarmonies
---
Useful Information
---
If you are planning on visiting this beautiful installation and soundscape, you may find the following information of use when planning your visit.
Access is permitted between 11.00am – 4.00pm and it is an inclusive event and venue.
Disabled access to the church gardens is available from the side of the road. There are no audio descriptions or BSL.
The birdboxes play sounds of bird song and songs from women. These are viewable from the path. The bird sculptures and boxes are currently held behind rope barriers as they are not designed to be touched but rather, enjoyed from the path.
Part of the artwork is inside St Nicks church and the sound will be switched off at certain times including:


---

Sunday mornings before 12noon
Friday 30 July at 2.30pm
Saturday 31 July at 12 noon
Saturday 31 July at 1.15pm
Sunday 1 August at 1.00pm
Friday 6 August at 4.00pm
Saturday 7 August at 2.00pm
Thursday 12 August at 11.00am* this may extend to the morning, please see social media for details.
Saturday 14 August at 1.30pm
---
---
Event Date: Tuesday 27th July – Sunday 15th August 2021
LOCATION: St Nicholas Church Gardens, Liverpool, L2 8GW
---