Aliza Nisenbaum – Tate Liverpool
Aliza Nisenbaum (b.1977, Mexico) is a New York based painter best known for her bright, large-scale portraits of people and community groups.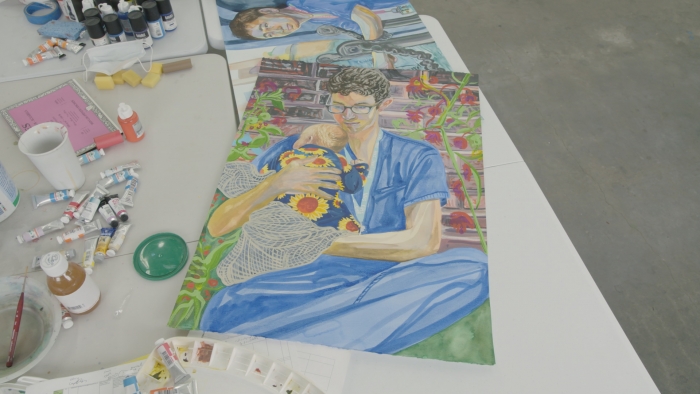 Inspired by the dedication of Liverpool's key workers, the artist has created a series of new paintings of NHS staff from Merseyside who have worked tirelessly for their community during the pandemic which will now feature at Tate Liverpool.
The exhibition captures the stories of front line NHS workers and highlights the impact that Covid-19 has had on their jobs and home lives. Sitters include a professor of Outbreak Medicine, a respiratory doctor who became a father during the first wave, and a student nurse who comes from a family of nurses who all chose to return to front line work.
Throughout August, Nisenbaum got to know the selected NHS staff, talking to them via video link from her studio in the US. She uses these conversations to include elements of their personality and interests within her paintings. The key workers are shown alongside things that have given them support and hope through this difficult time and include dogs, bagpipes and family photographs.
Visitors to the gallery will be able to see the two new large-scale group portraits and eleven individual portraits. The paintings will sit alongside three films, one of which documents the creation of the new work for Liverpool as well as paintings created over the last five years, including London Underground: Brixton Station and Victoria Line 2019, the artist's largest composition to date.
Due to Covid19 we always recommend you check the latest details for any event before travelling – all of which can be found on the Tate Liverpool website. 
---
Event Date: Tuesday 15th December – Sunday 27th June 2021
Please note:
This event has been submitted by the event organiser and is not endorsed by Culture Liverpool or Liverpool City Council. If you have any questions, please direct them to the event organiser.
---