Norman Eames 'desigNE' jewellery
This cabinet exhibition commemorates the aesthetics of design from 1967.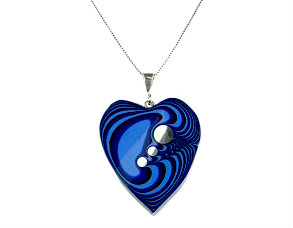 Liverpool's Bluecoat Display Centre has pioneered showing the most exciting of design-led contemporary craft for over 50 years – being founded in 1959. It gives us great pleasure to participate in Culture Liverpool's celebration of the 50th anniversary of the 50 Summers of Love celebrations during 2017.
To commemorate the aesthetics of design from 1967, which was epitomised by the release of the Sgt Peppers album and Peter Blake's album sleeve, Bluecoat Display Centre have selected North West based jeweller Norman Eames, for a cabinet exhibition to run from 1st May to 31st August, 2017.
Originally an engineer by profession, jewellery making was a second career for Eames. His hand crafted resin and polished aluminium jewellery conveys the spirit of the psychedelic period. Eames's jewellery has flowing designs in reds, oranges, purples and acid greens with the striking swirling patterns being framed in a highly polished reflective setting.
As Eames says "For Millennia jewellery has been gifted as an expression of love and bright colours have invariably been important in its appeal. This has been the case throughout time and particularly so at the time of the "Summer of Love" in the late 1960s. This brief period saw bright colours in evidence in fashion, in jewellery and even in John Lennon's Mini and Rolls Royce".
Although there are similarities, Eames regards his jewellery as a modern, contemporary and very original variation on the theme, although he concedes that the work is very appropriate for the anniversary of "Summer of Love" celebrations.
---
Event Date: Monday 1st May – Thursday 31st August 2017
Please note:
This event has been submitted by the event organiser and is not endorsed by Culture Liverpool or Liverpool City Council. If you have any questions, please direct them to the event organiser.
---