Crowdfund Liverpool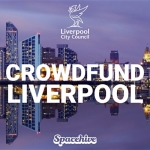 Created by the Mayor of Liverpool in partnership with crowdfunding platform Spacehive, Crowdfund Liverpool gives people across the city the opportunity to imagine, fund and create projects that bring their local area to life.
Crowdfund Liverpool aims to give residents with project ideas the ability to attract funding from their communities, the council, local businesses and foundations all through one portal. The Mayor is putting forward a dedicated fund of £100,000 to support crowdfunding campaigns. This programme will become a springboard for locally-led ideas to attract funding more easily, while enabling everyone who cares about Liverpool to contribute.
Together we'll help make Liverpool even better for those who live, work and study here.
If you have an idea that could improve your local community, or would like to know more about Crowdfund Liverpool, visit the dedicated CrowdfundLiverpool website or email CrowdfundLiverpool direct.