Bridge Performances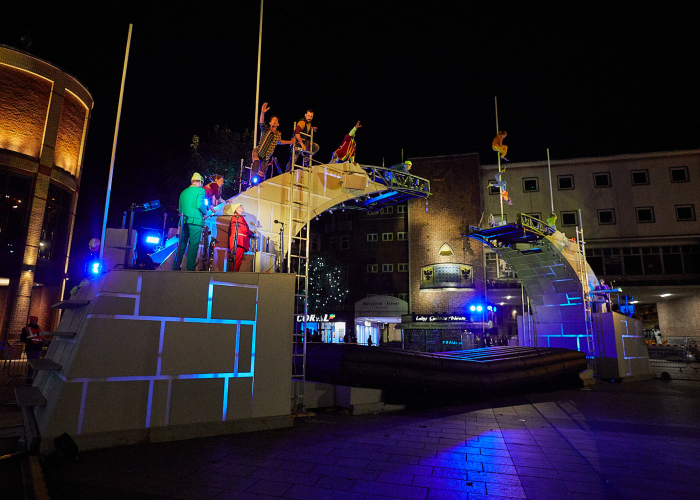 ---
A bridge mysteriously appears at 'The Rezzy', Breeze Hill Millennium Green, Liverpool, and becomes the setting for a programme of FREE pop-up events and happenings, ending in an exhilarating live performance with an international cast – produced by Coventry-based Imagineer Productions.
A downloadable guide is available here which explains what you can expect to see, hear and experience ahead of the event. This is designed to assist anyone with pre-planning the experience and understanding what you can expect if you have anxiety / additional needs.
Download Daily Programme Below*
*Please remember, as this event is live, times and activities may change at the last minute. For instant updates, please visit Culture Liverpool social media channels.
---
Under The Bridge: 10am – 5pm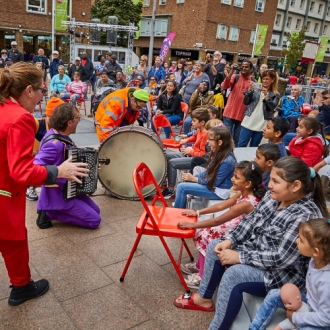 During the day, visitors to 'Bridge' can enjoy a programme of FREE events 'Under the Bridge', including performances, conversations and workshops from local community groups and arts organisations.
Join in the immersive headphones experience 'Changing Sides'. Take a pair of headphones, and listen as you discover how the bridge came to be broken and a community divided. You'll be encouraged to move around a little and interact with other people – socially distanced of course – in this fun new take on story-telling. 'Changing Sides' will be captioned via 'The Difference Engine' Thursday through to Saturday for those who are D/deaf or hard-of-hearing.
Take a seat under the bridge to listen to the 'Bridge Stories Podcast', a collection of stories of bridge-building and bridge-burning, collected as part of the 'Bridge' tour during 2020.
You're also invited to 'Put Yourself in the Picture' with some nifty creative photography! Can you find fun ways to bridge the gap in the bridge using a camera and a little invention? Not sure? We'll be there to help.
---
Changing Sides: 10am – 5pm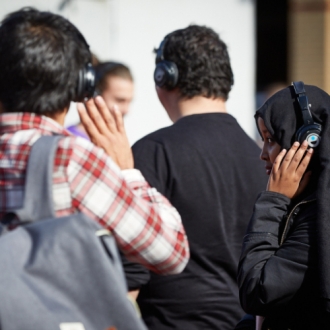 Listen to a story or take part in a story about how the island's bridge came to be broken and what might be needed to fix it. This is a fun immersive headphones experience in four parts for 12 – 30 people at a time. Each part lasts 12 minutes. Why not stick around and listen to more than one part?
'Changing Sides' will be captioned via 'The Difference Engine'  Thursday through to Saturday for those who are D/deaf or hard-of-hearing.
---
Bridge Performance, 6 – 7 August 2021, 8.45pm – 9.45pm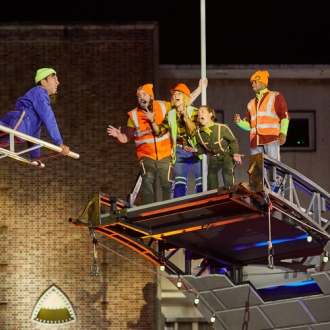 'Bridge' culminates in an extraordinary evening performance on Friday 6 and Saturday 7 August, with an amazing cast of international performers. With gravity-defying circus acrobatics, parkour, theatre and live music, some unusually agile engineers attempt to bridge the gap and find it much, much harder than they thought.
FREE and suitable for all ages, bring a blanket, sit down and settle in for a feast for the senses.
To access this part of the 'Bridge' event, you will need a ticket for entry. Interested? Get your tickets now HERE.
---
Bridge Building, Various Times & Locations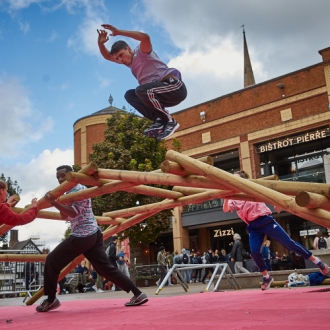 Local community groups are encouraged to make their own bridges and share stories of bridge-building (and bridge-burning) using 'Bridge Kits' to facilitate discussions. Bringing together people who wouldn't normally meet to create an astonishing and beautiful structure in public and outdoor spaces, community groups, schools, businesses and individuals are welcome to build their own bridges.
Find out more and get involved in 'Building Bridges' HERE.