What's On Guide: Friday 6 – Friday 20 July 2018

by Culture Liverpool
Hello and welcome to your Culture Liverpool What's On Guide for the fortnight ahead!
First things first, though: Since our last blog, we have had a few key announcements, including the opportunity to volunteer and the stunning artwork revealing one of the locations for our final Giant Spectacular event, Liverpool's Dream; and the reveal of the stunning. Liverpool City Region-wide #LostCastles project, which will see SIX extraordinary structures made of cardboard, tape and community spirit  in each borough this summer.
If that's not enough, we have an exciting two weeks of events before us – featuring 11 below – with another two to look out for beyond that (listing in chronological order for your planning ease.
We are now over halfway through #Liverpool2018, and with all the amazing stuff going on, we never want it to end…
Don't forget, you can view more things to do in Liverpool City Region at cultureliverpool.co.uk/events.
Enjoy!
---

---
Liverpool Arab Arts Festival 2018
---
Where? Various locations in Liverpool
When? Thursday 5 July – Sunday 15 July
Why go? The Liverpool Arab Arts Festival (LAAF) is the UK's largest annual Arab arts festival. Each year the festival brings a thrilling celebration of Arab culture to venues across the city, showcasing the richness of Arab culture through a packed programme of visual art, music, dance, film, theatre, literature and special events. Founded in 1998, Liverpool Arab Arts Festival this year celebrates its 20th anniversary. It is a registered charity delivering arts and community programmes that bring diverse cultures together, increasing appreciation and awareness of Arab culture and arts at a local, national and international level. Full programme details have also recently been announced, with LAAF confirming that the theme of this year's event will be "What Do I Know?".
---

---
The Feis Liverpool
---
Where? Pier Head, Liverpool Waterfront
When? Saturday 7 July
Why go? At last, it is here! The Feis (pronounced 'fesh') is a multi-stage event taking place on Liverpool Waterfront, and is being organised by Vince Power and Jona Cox. Vince founded the famous Fleadh and Feis Festivals which ran for 21 years in London, Glasgow, New York, Boston, Chicago and San Francisco. Featuring some of the biggest names in Irish music – both contemporary and traditional (and featured on the poster above) – The Feis Liverpool will be the biggest celebration of Irish culture the city has ever seen. Book online today, or pay onsite tomorrow at the dedicated event Box Offices.
---

---
Caribbean Music Festival
---
Where? Granby Street
When? Saturday 7 July
Why go? Caribbean Music Festival (CMF) is an annual event that showcases different styles of Caribbean music ranging from Soca, Calypso, Zouk, Salsa, Merengue, Reggae and more all performed by Caribbean DJs and musicians from around the world and various islands in the Caribbean.
---

---
5th Liverpool Artists Book Fair
---
Where? Liverpool Central Library
When? Saturday 7 – Sunday 8 July
Why go? Discover the work of some 60 book artists in the brilliant setting of Liverpool Central Library. Meet the makers, and take the opportunity to buy their distinctive work. There will be unique works, limited editions, picture books, distinctive notebooks, book bindings and more – one for all you bookworms out there!
---

---
The Big Reader Picnic
---
Where? Calderstone's Park
When? Saturday 7 July
Why go? You're invited to celebrate The Reader's 10th birthday with a day of food, fun and festivities. Bring your blanket and hamper, settle in for some good stories, and try some of the brilliant things you can do near your home, in The Reader's shared Calderstones home. Reading, music, workshops and outdoor activities can all be expected, as The Reader reaches double figures on this special birthday.
---

---
Celebrating Bold Street
---
Where? Bold Street (just in case we weren't obvious enough!)
When? Sunday 8 July
Why go? A street takeover by local businesses including a farmers market, art and crafts stalls and street entertainment. Celebrating Bold Street is the finale event of Independents' Week, which started on Monday 2 July.
---

---
Klub Kids presents An Evening with Alaska
---
Where? Epstein Theatre
When? Tuesday 10 July
Why go? This is afull evening with the RuPaul's Drag Race All Stars 2 winner, Alaska. Featuring live music, comedy, and performances of Alaska's hit singles and supported by the Klub Kids, this show is sure to be an absolute treat. There is also a VIP meet and greet opportunity with the lady herself – a must for all RuPaul's Drag Race and Alasks fans!
---

---
Soccerama
---
Where? Liverpool Central Library
When? Thursday 12 & Friday 13 July
Why go? Presented as part of our #ArtofFootball season and featuring guests from across the world of football, media and academia – hosted across two evenings at Liverpool's Central Library – Soccerama is a symposium to explore football through a new lens. Via a series of conversations and debates, Soccerama will unpick football's interwoven relationship with the key global debates of our times.
Join us to explore some of the fundamental questions facing football today; How healthy and sustainable is football's newfound wealth? What is its long-term impact on the game? Has the sport become divorced from its original social fabric? What role can fans play in shaping the game's future? What can we learn from history when exploring the manner in which states look to utilise football as a tool of nationalism?
---

---
Brazilica Carnival Queen Contest & Brazilica Festival 2018
---
Where? Circo Liverpool
When? Friday 13 July & Saturday 14 July respectively
Why go? Friday 13th – unlucky for some, but not this time around! Held at the stunning Circo, Liverpool, dazzling dancers will battle it out, displaying their talent, charm, beauty and amazing samba moves to be crowned Brazilica Carnival Queen 2018, with two Brazilica Carnival Princesses also set to be named. Brazilica Carnival Queen 2017, Wendy Okoli of Samba Livre/Liverpool Samba School, will be on hand to pass over her crown to the new queen.
Then, on Saturday 14 July from 8-10pm, there will be a glittering Brazilica Samba Carnival Parade through the streets of Liverpool City Centre (parade route pictured below, click image to enlarge).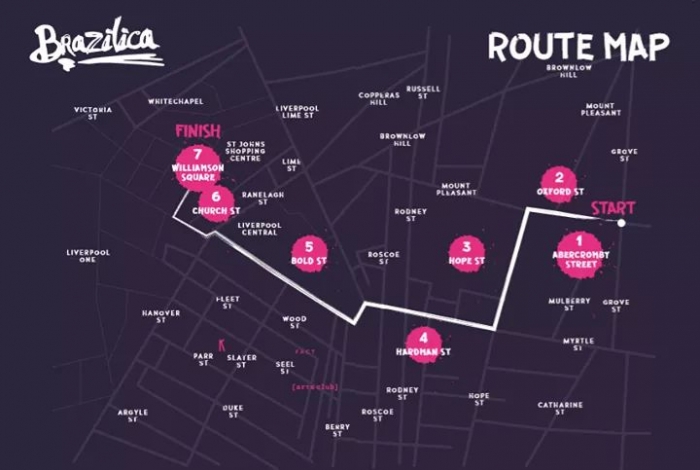 Plenty to look forward to from one of the city's best-loved events!
Find out more about Brazilica Carnival Queen Contest>
Find out more about Brazilica Festival 2018>
---

---
Liverpool Biennial 2018: Beautiful world, where are you?
---
Where? Various locations around Liverpool
When? Saturday 14 July – Sunday 28 October 2018
Why go? The 10th edition of Liverpool Biennial, Beautiful world, where are you?, invites artists and audiences to reflect on a world of social, political and economic turmoil. The Biennial programme is presented in locations across Liverpool including public spaces and the city's leading art venues: Bluecoat, FACT, Open Eye Gallery, Tate Liverpool, Liverpool John Moores University's Exhibition Research Lab, National Museums Liverpool, RIBA North, the Liverpool Playhouse, Victoria Gallery & Museum (University of Liverpool), and Blackburne House.
Running alongside Liverpool Biennial 2018 will be the Independents Biennial, which has recently been announced and will see the city's old George Henry Lee's building host three floors of exhibitions and a pop-up cinema.
---

---
Zine Club – Shy Bairns Presented by New Contemporaries
---
Where? The Bluecoat
When? Saturday 14 July, 1pm – 4pm
Why go? Following the launch of the Bloomberg New Contemporaries 2018 exhibition at Liverpool John Moores University, artist collective Shy Bairns will be inviting audiences to contribute to an ongoing zine at The Bluecoat. The collective – made up of zzy Kroese, George Gibson, Erin Blamire and Eleanor Haswell – state an interest in community, identity, Art World Politics and Real World Politics, and how print relates to all of these things.
---
Coming up beyond the next fortnight…
---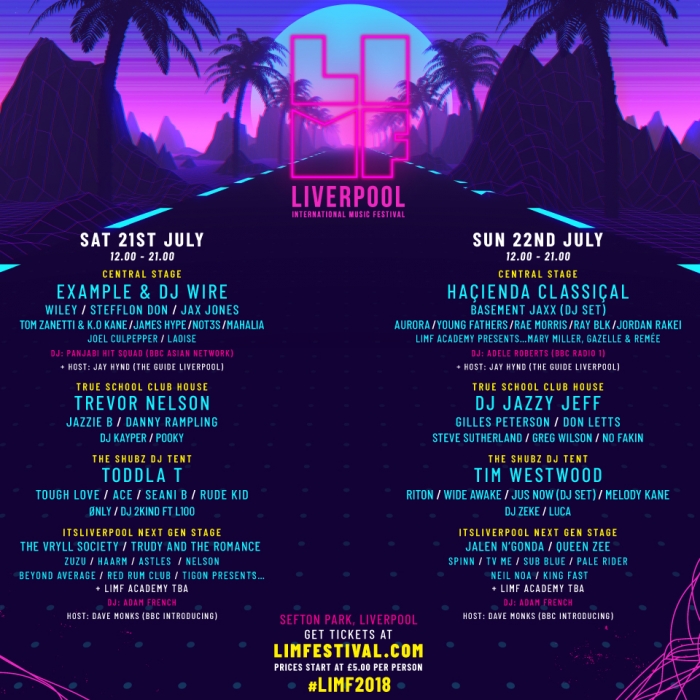 ---
Liverpool International Music Festival 2018
---
Where? Sefton Park
When? Saturday 21 – Sunday 22 July
Why go? Our very own #LIMF2018 heads back to the magnificent Sefton Park for another weekend of unforgettable music. The stage will be set once again to showcase a diverse set of global household names alongside a plethora of emerging new talent that LIMF has become renowned for. Over 70 artists including Haçienda Classiçal, Basement Jaxx (DJ Set), Wiley, Example & DJ Wire, Jax Jones, Stefflon Don, Aurora, Young Fathers, Rae Morris, DJ Jazzy Jeff, Trevor Nelson, Gilles Peterson plus many more will perform live as part of this year's unmissable line-up.
---

---
Clipper Round The World Yacht Race: Finish
---
Where? Royal Albert Dock Liverpool
When? Saturday 28 – Sunday 29 July 2018
Why go? One of the biggest round the world yacht races will return to the city on Saturday 28 July with a sprint finish which will determine the sought-after podium places for one of the toughest endurance challenges on the planet. The dramatic climax will take place on the River Mersey, in front of the Royal Albert Dock Liverpool, from 10am, and once all the team yachts have crossed the finish line, they'll take part in a magnificent parade of sail along the River. It will include Liverpool's very own yacht Liverpool 2018 which, thanks to its eye-catching pink design, has been making waves at each port it has visited around the world. There will be a programme of performances and activities taking place at the Royal Albert Dock Liverpool from midday to 6pm on Saturday 28 and midday to 5pm on Sunday 29.
---