What's On Guide: Friday 22 June – Friday 6 July 2018

by Culture Liverpool
Hello and welcome to your Culture Liverpool What's On Guide for the fortnight ahead – and what a jam-packed two weeks of culture we have before us, as we feature 17 events, with another three to look out for beyond that.
Featuring football, theatre, visual art, tennis, a local nod to Armed Forces Day, a drag performance, live world music, a chance to get crafty, a celebration of the city's best independent retailers, and the UK's largest Arab arts festival – there really is something for everyone!
Once again, #Liverpool2018 has us feeling well and truly spoiled for choice. And if that isn't enough, you can view more things to do in Liverpool City Region at cultureliverpool.co.uk/events.
Enjoy…
---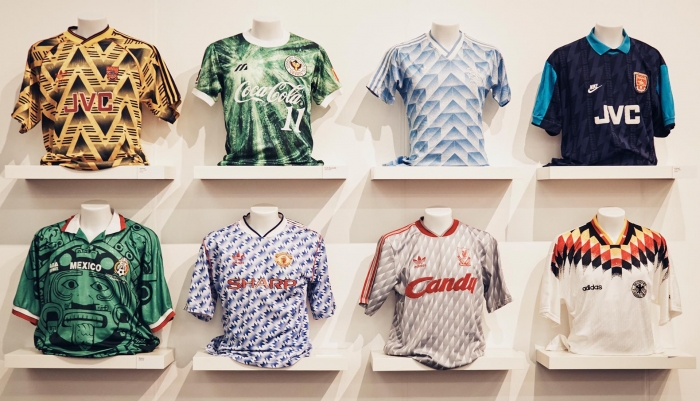 ---
The Art of Football Season
---
Where? Various events across various events in Liverpool
When? From now up until 15 July (when the FIFA World Cup 2018 finishes)
Why go? Taking place during the course of the Football World Cup in Russia, this season sets out to explore the relationship between football, art and culture. Covering fashion, politics, music and performance, The Art of Football season looks at the role which football plays in the world, and how Liverpool is at the heart of so much of what is now shaping the global identity of soccer.
Upcoming #ArtofFootball Events:
---
---
The Big I Am
---
Where? Liverpool Everyman Theatre
When? Saturday 16 June – Saturday 14 July
Why go? Based on Henrik Ibsen's classic play, this is a brand new anarchic adventure that journeys from wartime Britain to the ends of the earth and beyond. Teeming with characters, bursting with comedy and pulsing with live music, this is more than theatre. This is a life flashing before your very eyes and forms part of The Everyman Company season.
---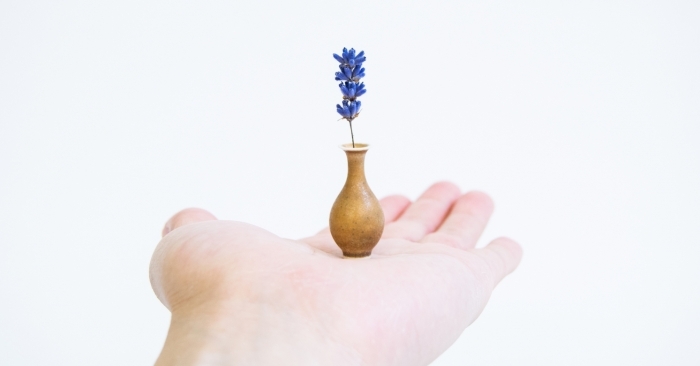 ---
The Miniaturists
---
Where? Bluecoat Display Centre
When? From now until Saturday 28 July
Why go? As Liverpool celebrates the 10th anniversary of its European Capital of Culture year, the Bluecoat Display Centre team reminisced on the fantastic programme of events that has happened since, including when the Royal de Luxe giant puppeteers first came to town. In response, the team have curated an exhibition celebrating miniature craft in a variety of media including wood, paper, basketry, ceramic, jewellery, precious and non-precious metal and found materials.
---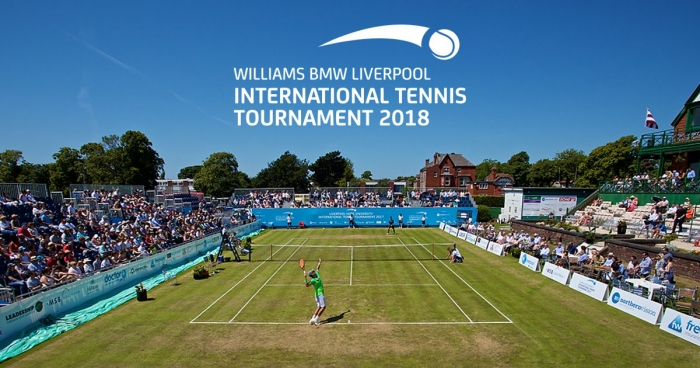 ---
Williams BMW Liverpool International Tennis Tournament
---
Where? Liverpool Cricket Club
When? Thursday 21 June – Sunday 24 June
Why go? The 17th edition of the Williams BMW Liverpool International Tennis Tournament takes place in the wonderful surroundings of the Liverpool Cricket Club from 20 – 24 June. The International has grown to become the longest running and largest tennis exhibition in Europe and since 2002, it has introduced up and coming and established WTA and ATP players coming to Liverpool to prepare for Wimbledon.
---
---
Artist's Talk: Serena Korda
---
Where? Bluecoat
When? Friday 22 June
Why go? Serena Korda joins the team at the Bluecoat to talk about her work and the new commission at Speke Hall, as well as her recent, highly acclaimed exhibitions at BALTIC and The Hepworth, Wakefield. To learn more about Serena's work, visit serenakorda.com.
---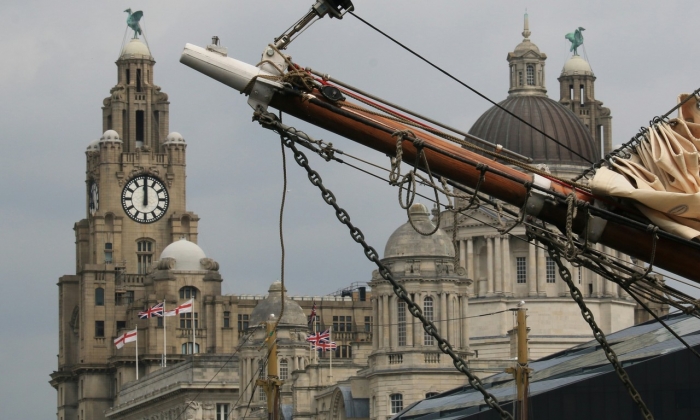 ---
Spirit of Liverpool 2018
---
Where? Liverpool Philharmonic Hall
When? Saturday 23 June
Why go? A major charity gala event as part of Liverpool's special year 2018, highlighting the city's rich past and dynamic future through an exciting variety of music and narration. Including music from Europe, Africa, Asia and South America plus Z-Cars and You'll Never Walk Alone.
---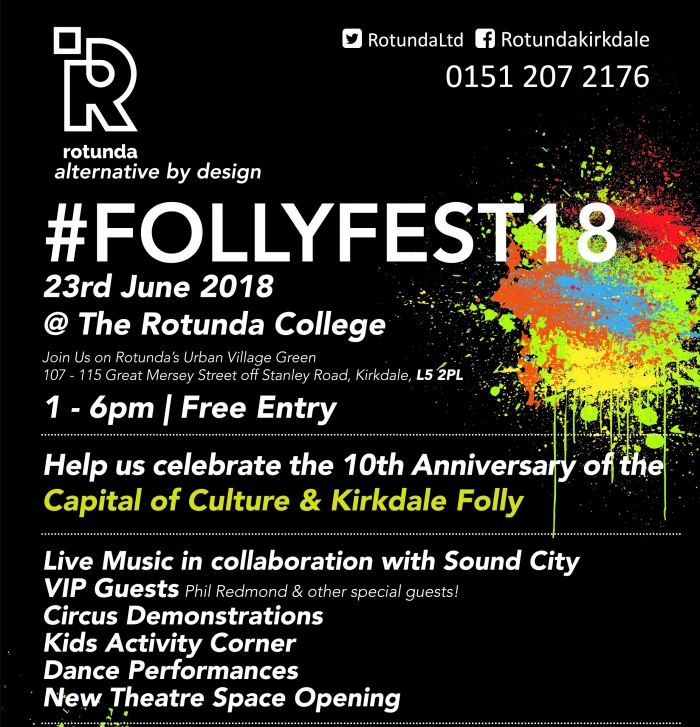 ---
#FollyFest
---
Where? Rotunda's Village Green
When? Saturday 23 June
Why go? #FollyFest is a celebration of the last remaining piece of public art in the city from the European Capital of Culture 2008 celebration. The artwork has been refurbished and rejuvenated to represent North Liverpool's regeneration and rebirth 10 years on! This is a cultural fest in collaboration with Liverpool Sound City and MD Production and other cultural partners. Its a jam packed event with live music, dance, drumming and plenty for the whole family in the creative corner! Join Phil Redmond and special guests as we relaunch the Kirkdale Folly and new outdoor performance space at 1pm.
---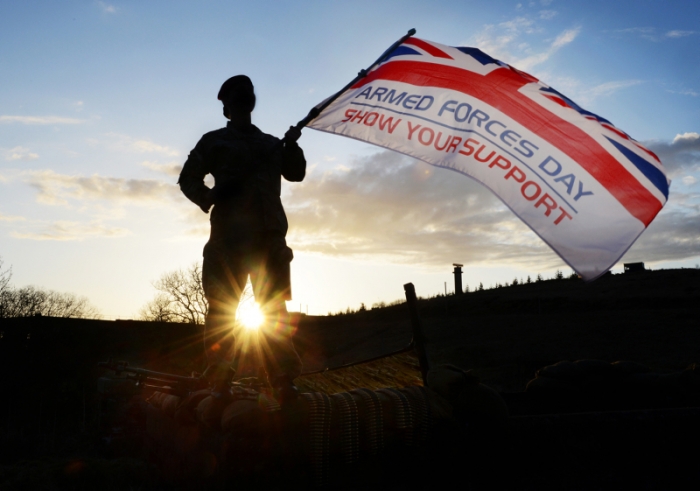 ---
Armed Forces Day and Week 2018
---
Where? Various locations on separate days
When? Week commencing Monday 25 June (Reservists Day is on Wednesday 27 June and Armed Forces Day is on Saturday 30 June)
Why go? Following on from hosting the national event for Armed Forces Day in 2017, the city returns to hosting a local event, in a salute to our forces and servicemen and women. As well as a flag raising at Liverpool Town Hall, there will be a Drum and Flag Service of commemoration for the 100th anniversary of HMS Eaglet on Wednesday, while there will be a march on Saturday, with a range of demonstrations and activities taking place at the Albert Dock.
---

---
James Bridle and a New Dark Age at Bluecoat
---
Where? Bluecoat
When? Wednesday 27 June
Why go? Join the team at Bluecoat as James Bridle discusses his book, New Dark Age, which explores the dark clouds that gather over our dreams of the digital sublime. What is needed is not new technology, but new metaphors: a metalanguage for describing the world that complex systems have wrought. We don't and cannot understand everything, but we are capable of thinking it. Technology is and can help us in this thinking: computers are not here to give us answers, but are tools for asking questions. Understanding a technology deeply and systemically allows us to remake metaphors in the service of other ways of thinking – without claiming, or even seeking to fully understand – and to ask the right questions to guide us through this new dark age.
---
---
ICONIC – A Brief History of Drag
---
Where? Epstein Theatre
When? Thursday 28 June
Why go? A triple threat of heavenly vocals, theatrical swagger and quick wit comes to the Epstein Theatre with ICONIC – A Brief History of Drag. Following sell-out performances in the UK and Australia, ICONIC features the most significant drag moments of film, stage and popular culture from Velma, who is the alter-ego of London West End performer Ian Stroughair. With nods to Bowie, Queen, Boy George, Britney Spears, Lady Gaga, Tina Turner and more, this is a drag-tacular event not to be missed!
---
---
Music for the Mind & Soul
---
Where? The Capstone Theatre
When? Saturday 30 June
Why go? Two of the most beautiful stringed instruments in Indian music, the violin and the veena, are given a rhythmic heartbeat by rich percussion in this extraordinary Jugalbandhi performance, which is free to attend and is taking place at Liverpool Hope University's Capstone Theatre at 1pm.
---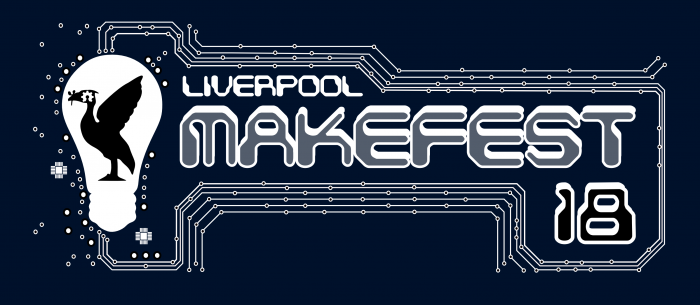 ---
Liverpool MakeFest 18
---
Where? Liverpool Central Library
When? Saturday 30 June
Why go? This year's Liverpool MakeFest will take place at Liverpool Central Library​ is the team's fourth celebration of maker culture. Spanning the entirety of the library, it's open the whole day and completely free to attend. See dozens of displays, workshops and free activities for all ages, abilities and needs. Liverpool MakeFest – Free, family-friendly and most of all FUN!
---
---
Liverpool Print Fair
---
Where? Bluecoat
When? Saturday 30 June
Why go? Liverpool Print Fair is a joint venture from The Print Social and Bluecoat Print Studio, gathering the very best in printmaking and design to provide Liverpool with accessible and affordable art. The fair is a celebration of printmaking in a variety of forms including screen printing, linocut, etching, woodcut and more. The fair offers a rare opportunity to purchase a variety of interesting and affordable prints by some exciting up-and-coming artists.
---
---
TROIKA at St George's Hall
---
Where? St George's Hall, Liverpool
When? Sunday 1 July
Why go? Experience a rip-roaring jazz odyssey, with music from Yiddish Odessa to Cossack Russia and 1930s Paris. Since their formation in Liverpool in 2015, Troika Klezmer Kabaret have gained recognition for their eclectic repertoire. They offer a dashing musical journey, from the dark dens of Yiddish Odessa to the hot club swing of stylish Cafe Society in Django Reinhardt's 1930s Paris. The group also explores the music from the wild and savage hinterland of Cossack Russia in the 1890s.
---
---
Independents' Week 2018
---
Independents' Week, brought to you by Liverpool BID Company, is a campaign to engage local independent businesses, residents and visitors in celebrating entrepreneurial spirit of the growing independent business community. The event is taking place from Monday 2 – Sunday 8 July. As well as a range of offers from the city's best independent businesses throughout the week, Celebrating Bold Street returns for #Liverpool2018, in what is sure to be an amazing finale to a great week championing local businesses.
---
---
Oddsocks – The Tempest
---
Where? St Luke's Bombed Out Church, Liverpool
When? Wednesday 4 July
Why go? Shakespeare's tale of illusion and revenge is brought vividly to life in Oddsocks' musical, Sci-fi adaptation. From the company who brought you "bonkers and brilliant" Romeo and Juliet and "downright funny" Macbeth. Experience The Tempest that's out of this world. And what's more, IT'S OUTDOORS!!! So if you do go to this event, which is literally "out there", make sure you dress for the weather.
---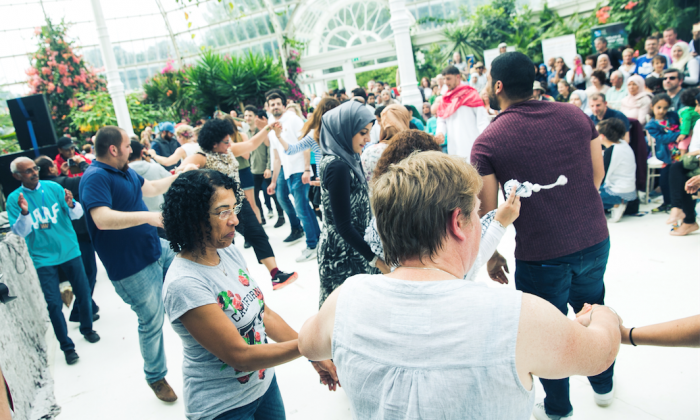 ---
Liverpool Arab Arts Festival 2018
---
Where? Various venues in Liverpool.
When? Thursday 5 – Sunday 15 July
Why go? The UK's largest annual Arab arts festival,LAAF celebrates its 20th year with a full programme worth celebrating! Each year the festival brings a thrilling celebration of Arab culture to venues across the city, showcasing the richness of Arab culture through a packed programme of visual art, music, dance, film, theatre, literature and special events.
---
Ones to look out for beyond the next fortnight…
---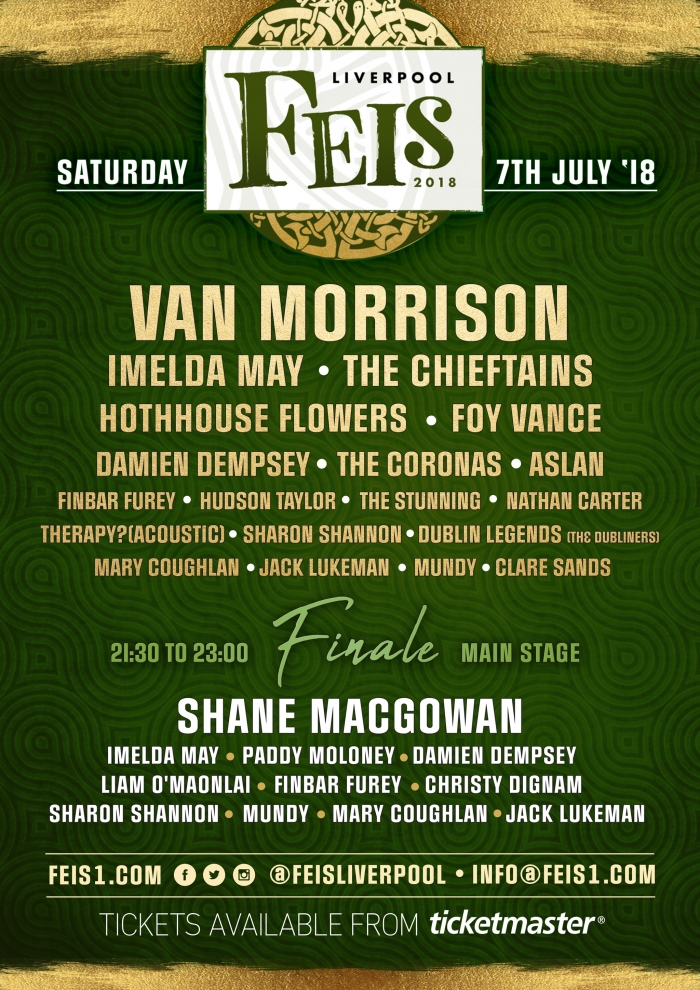 ---
Liverpool Feis
---
Where? Pier Head, Liverpool Waterfront
When? Saturday 7 July
Why go? Taking place on Liverpool's World Heritage Waterfront on Saturday 7 July, Van Morrison will headline The Feis, which will feature some of the biggest names in Irish music, both contemporary and traditional, in the biggest celebration of Irish culture the city has seen. Also on the line-up are Chieftains, Imelda May, The Hothouse Flowers, Foy Vance, The Coronas, Aslan, Finbar Furey, Hudson Taylor, The Stunning, Nathan Carter, Damien Dempsey, Dublin Legends (The Dubliners), Sharon Shannon, Mary Coughlan, Jack L & Mundy and the legendary Shane McGowan, who will be headlining the Finale Main Stage.
---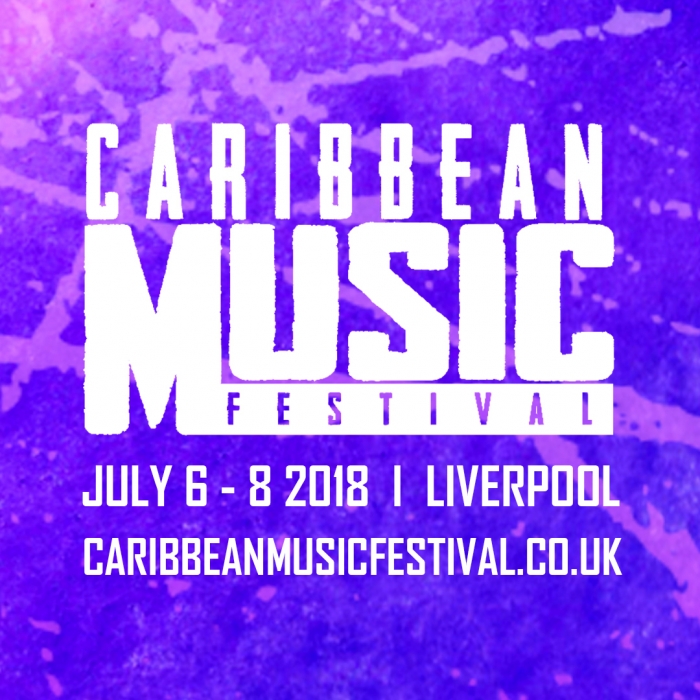 ---
Caribbean Music Festival 2018
---
Where? Granby Street, Toxteth
When? Friday 6 – Sunday 8 July
Why go? Caribbean Music Festival (CMF) is an annual event that showcases different styles of Caribbean music ranging from Soca, Calypso, Zouk, Salsa, Merengue, Reggae and more all performed by Caribbean DJs and musicians from around the world and various islands in the Caribbean.
---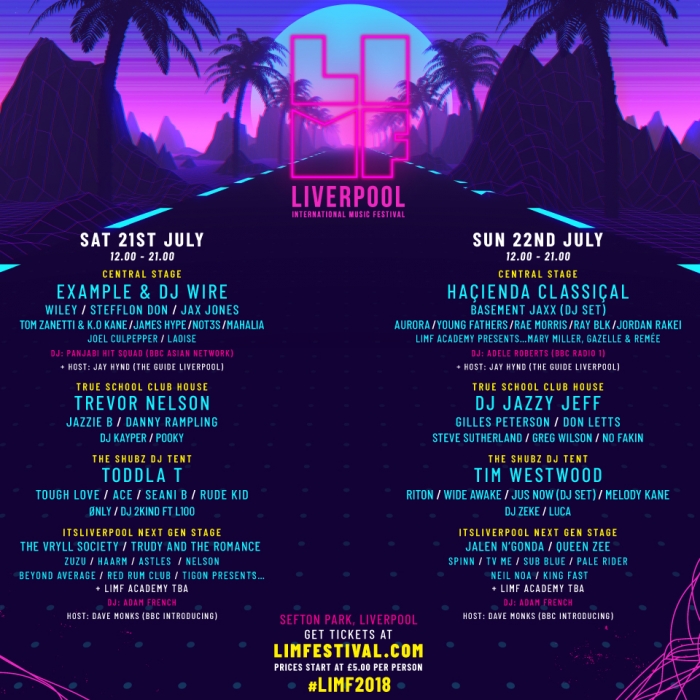 ---
Liverpool International Music Festival 2018
---
Where? Sefton Park
When? Saturday 21 – Sunday 22 July
Why go? Our very own #LIMF2018 heads back to the magnificent Sefton Park for another weekend of unforgettable music. The stage will be set once again to showcase a diverse set of global household names alongside a plethora of emerging new talent that LIMF has become renowned for. Over 70 artists including Haçienda Classiçal, Basement Jaxx (DJ Set), Wiley, Example & DJ Wire, Jax Jones, Stefflon Don, Aurora, Young Fathers, Rae Morris, DJ Jazzy Jeff, Trevor Nelson, Gilles Peterson plus many more will perform live as part of this year's unmissable line-up.
---
Whatever you choose to do, we hope you have a wonderful time. And don't forget, you can follow us on Facebook, Twitter and Instagram  for all of the latest #Liverpool2018 updates!