Artwork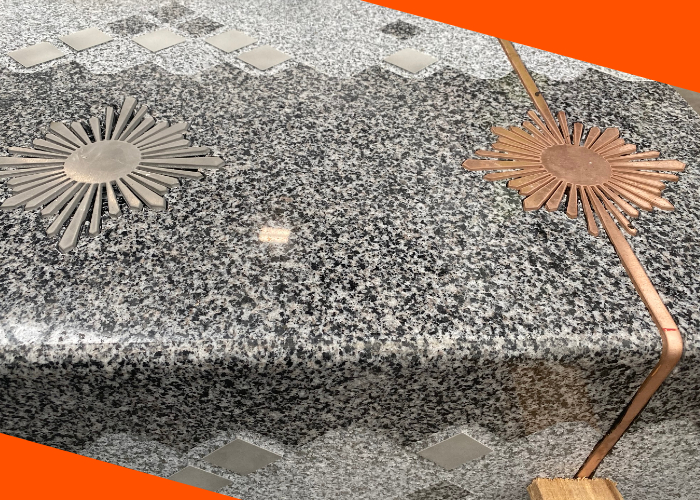 ---
Creative Design
---
The outcomes from the public engagement and school workshops informed the final designs of BCA Landscape, appointed Landscape Architect on the scheme. Specifically the:
---
L8 Sculpture, its new location and additional sculptural pieces
granite pieces along Boulevard
interpretational panels
carpet paving
granite paving artwork
specimen tree focal point
planting schemes
---
L8 Sculpture
---
As part of the community engagement it was decided to relocate the '8' sculpture on the Boulevard and give it a more beautiful setting with the addition of an 'L' to represent the postcode of L8. Originally designed by artist, Brian Dawe, the '8' represents the spirit and journeys of the communities within the area, many of whom originally arrived in Liverpool by sea. The '8' features images in relief designed by school children. The sculpture was enhanced with a series of stone blocks, of different shapes and sizes, derived from dock wall construction to represent the Liverpool Port as the main western gateway, but more importantly, as a major foundation to the migration of peoples to Liverpool and Toxteth. The word 'Memories' was carried over from the original site and other words were added to reflect journeys and migration. The 'L' features a map of the area from the 1800s and was etched by hand onto the granite block.
---
Carpet Paving
---
The 'mosaic' design seen in the pattern of the carpet paving and on the borders of the interpretation panels has been influenced by the repeated and shared patterns found within the various faith buildings located on and around the Avenue. These were identified during the engagement workshops and used as a basis for the designs you can see on the Avenue, celebrating our cultures and similarities.
---
Princes Boulevard is…
---
Developed from the creative writing workshops, Writing on the Wall collated a series of writing that informed the inscriptions on the large black granite blocks and plinth at the Park end of the Boulevard. These are:
---
Princes Boulevard – our home, our life, our future
Princes Boulevard – where cultures combine, where people unite, where stories are told, where memories are made, where imagination can fly, filled with possibilities, for generations to come.
---
There are further plans to include more of the artwork in laser cut screens on the sub-station walls, and surface art overlay on the pedestrian/cycle way crossings. The laser cut screens feature more of the creative writing.
---
More Information
---
Princes Avenue STEP Scheme
Urban Green
---
---