World Premiere artwork by Turner Prize Holder Lubaina Himid to be unveiled in Liverpool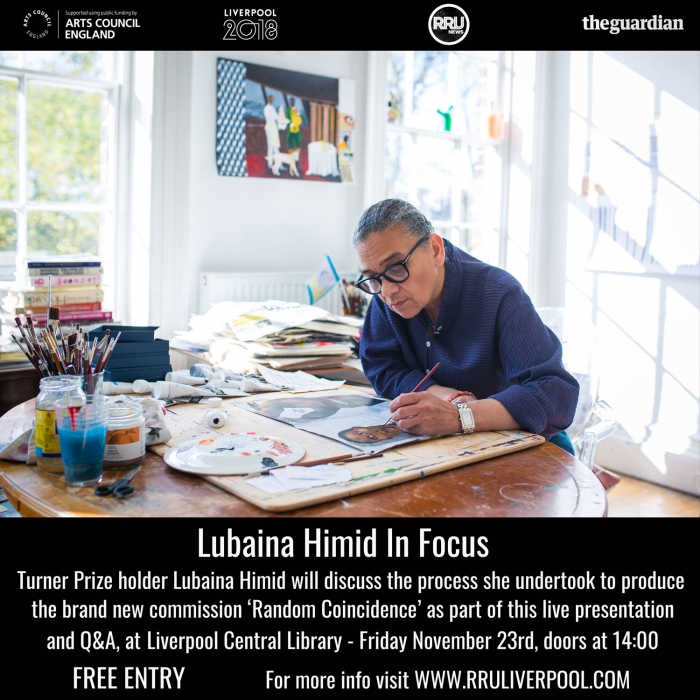 Lubaina's new series – "Random Coincidence" – comes in response to a week she
spent inside The Guardian as a "ghost" artist in residence – with access at the
highest editorial level, to observe how that publication thinks, works and decides
to present news. The access offered to Lubaina as part of this experiment was
totally unprecedented for The Guardian, or any UK news outlet.
Lubaina spent time with editorial staff at all levels to understand the process by
which the news agenda is shaped and disseminated at a global news outlet. Her
interest was based in a personal, cultural critique of the news media, and in this
instance the newspaper she reads; The Guardian, via the lens of race and the
depiction of black people in the news.
As part of her Turner Prize award, Lubaina painted over pages of The Guardian and
critiqued it fiercely for its depictions and presentations of black people. Her
critique appears to have hardened and deepened – both in relation to the
Guardian, and the wider news media.
"Random Coincidence" will be unveiled by the artist at 14.30 on 23 November at
the Liverpool Central Library, after which the public are invited to hear Lubaina
speak about her career and take part in an artist Q&A.
Entry is FREE with doors at 14:00
The work is on display from 09.00 – 20.00 every day from 23 November – 7 December and more information on the launch event on 23 November can be found
at WWW.RRULIVERPOOL.COM
Lubaina Himid said:
"The Random Coincidence Project is about reflection and taking care.
EMBARGO 09:00 – 16/11/18 Journalists at the Guardian are putting information, investigation and analysis out there and everyday we readers think about their work talk to each other about whether we agree and act upon it wherever we can. This is not a fight between an artist and a news organisation it's a collaborative multi level conversation about clarity, fairness and the future of how we can communicate more effectively."
RRU News Editor Mark Donne said: "In terms of how black and BAME people are depicted as part of our daily news cycle and our wider societal engines, this is a truly fascinating experiment – both in relation to a liberal title such as The Guardian, and the wider news media in general. It took and is taking extraordinary courage & good will on the part of the Guardian and indeed on Lubaina's, who confessed to feeling "outnumbered". We wanted to find a setting for the work and the ensuing public debate which was totally accessible for the widest possible audience yet which had the gravitas to
handle the themes. We think Liverpool Central Library does that perfectly and cannot wait to see the reaction."