Amazing Graces and Sea of Faces
This page is from 2015 and has been archived.
Please be aware that the information may be out of date.
To celebrate the arrival of the Three Queens, Liverpool's very own Three Graces, were transformed with a stunning projection show. Capturing a sense of the sea and embracing the spirit of adventure, this spectacle celebrated Liverpool's history and championed its role as a modern and progressive city.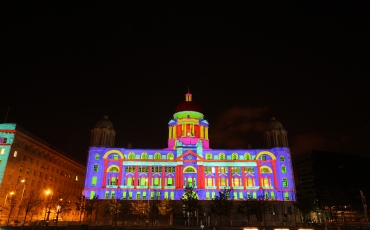 The performance included a Sea of Faces, hundreds of local people were photographed, and their images were used to tell the story of the cities unique and rich cultural heritage, embodying the spirit of Liverpool.
Amazing Graces was curated and produced by The Colour Project in collaboration with Liverpool City Council and Face Lab at Liverpool John Moores University. The narrative for the show was developed in partnership with Hope Street, a Liverpool based company that specialises in developing artists, art forms and arts in the community. The average faces of Merseyside were produced by Face Lab, a Liverpool School of Art & Design research group.