1981 Liverpool 8 Uprisings 40th Anniversary Exhibition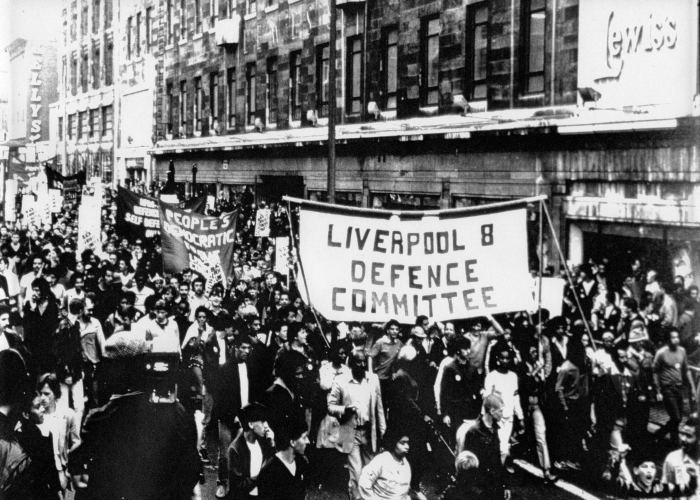 ---
Brought to you by Writing on the Wall in partnership with Liverpool Record Office
Friday 22 October – Wednesday 22 December, Time TBC
Liverpool Central Library, William Brown Street, Liverpool L3 8EW
Free. No booking necessary
---
Writing on the Wall and Liverpool Record Office present an original exhibition remembering the 1981 Liverpool 8 Uprisings. The 'Toxteth Riots', as they were dubbed by the media were a reaction and response by the L8 community to many years of racist policing, brutality and racism, aimed at the community and individuals. This exhibition displays many of the news reports from 1981 and reveals the extensive L8 Law Centre collection. The L8 Law Centre was an organisation set up in direct response to 1981, to police brutality, poor housing, education and lack of opportunity for Liverpool's Black community, The organisation served as a hub of activism for more than 30 years.
The exhibition is a selection of documents from the L8 Law Centre archive. Pieces in the exhibition include photographs, contemporary documents and reports of the uprisings, from a truly grassroots black- led Liverpool organisation. Although a huge amount has been written and documented about the Toxteth uprisings (some of the most ferocious the UK saw during 1981) this exhibition aims to look at the disturbance with a fresh perspective; a look into wider UK race relations from the ground up.
The exhibition and the archive it is drawn from encapsulate an incredibly important yet forgotten aspect of Liverpool's Black community – its determination, inventiveness, activism and sense of community in the face of historical institutional racism.
Join the conversation:
---
Facebook: @writingonthewall.liverpool
Twitter: @wowfest
Instagram: @wow_fest
---